It's difficult to explain our homeschooling approach, but based on what we do, we like books and hands-on activities. These are excellent methods to learn, particularly in the early elementary years, but they do not provide much visible evidence of learning for our portfolio reviews. Something I like to do is find interesting, interactive and engaging "worksheets" for the kids. This gives them a chance to review what they've learned, and gives me a paper trail of our lessons. I was just offered an Individual Membership to a website called Super Teacher Worksheets, and I was thinking that this would be a one-stop shop for supplementing our core curriculum.
What's Included in Super Teacher Worksheets?
I can't even begin to tell you everything that is included with a membership to Super Teacher Worksheets.  A membership gives you unlimited access to thousands of worksheets and printable for ages 4-11 (approximately, but we all know age recommendations are flexible) for almost every subject.  Subject categories include the following:
Math
Reading & Writing
Phonics and Early Literacy
Handwriting
Grammar
Spelling Lists and Worksheets
Science
Social Studies
Holidays
Puzzles and Brain Teasers
Teacher Helpers
Pre-K and Kindergarten
Make Your Own Worksheets
As you can see, there are worksheets for all of your core academic subjects, and there's more!  There's so much depth in those individual categories, that I could never list all of the subtopics covered; you really have to look through them to see how much content is available.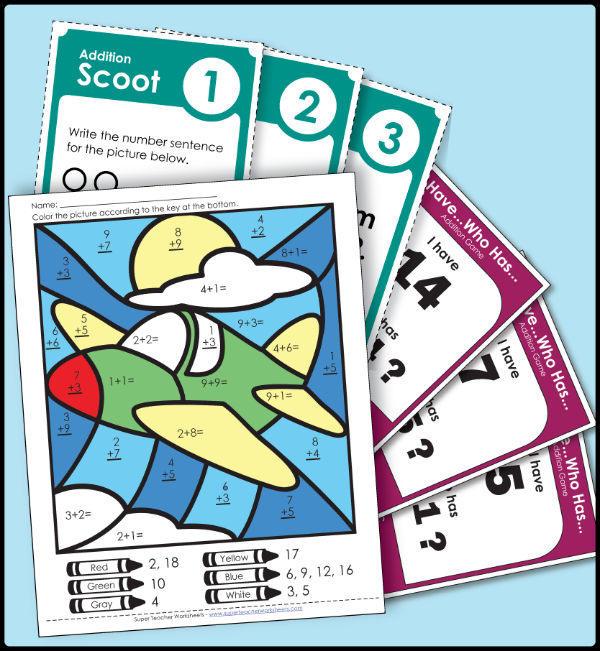 The Teacher Helpers include things like certificates, lesson planners, book logs, and much more.  The Make Your Own Worksheet section gives you the ability to create math fact worksheets, flash cards, word searches, crossword puzzles, quizzes, and other types of worksheets.  You can also save things you generate to your filing cabinet.  Essentially, if you can't find what you need, you can probably make it yourself with little effort.  The one exception is that I couldn't find a handwriting worksheet generator, which would be nice for creating custom copywork pages in print or cursive for the boys.  Since handwriting generator websites exist out there for free, I would love to see one added here, so I could get everything done in one place.
How Did I Use Super Teacher Worksheets?
I decided the primary way I want to use Super Teacher Worksheets is to help me plan ahead for our unit studies.  I'm not a huge planner by nature, but I realize that having things outlined ahead of time keeps us consistent and on track.  So as I plan each unit, I check Super Teacher Worksheets for corresponding worksheets.  I've found so many great things for recent and upcoming units.  I just print and file with my planning sheet, and I'm ready when we start the unit.
For instance, when we read Paul Revere's Ride and did an overview of the American Revolution, I found a colonial map and a patriot soldier that were suited to our needs, among many other relevant worksheets.
This year we have a weekly afternoon co-op, so those mornings will be different.  I'm using that day each week for a "catch-all" day, which is where we do review, critical thinking, and other subjects that don't need to be covered daily, but that need to be worked into our schedule. Super Teacher Worksheets has a huge variety of supplemental activities that are perfect for the boys.  I've printed several puzzles, brain teasers, word problems, in and out boxes, reading comprehension and other exercises.  I put them in a folder, and each week I can pull out whichever activity I feel is most appropriate.
I know I can also go on the website and find a worksheet to supplement a specific topic in their math or language arts programs if necessary as well.  For instance I printed a blank Multiplication chart for my 8 year old, since that is his primary focus this year for math. He is filling in each set of facts as he learns them, which is great review.
You can also preview each worksheet before you open the PDF to download/print.
I'm certain I'll be using some of the other multiplication items with my oldest this year too.  Multiplication Bingo, Memory Match and To The Moon sound like a much more fun way to review than drilling repeatedly!
Filing Cabinet
You can save your favorite worksheets.  This is great for ones I'm likely to use repeatedly, like the United States map as we study different regions.  The filing cabinet is also be good for saving worksheets "for later" when I'm not ready to print but don't want to hunt them down again.  I can sort them by subject too, which makes it easier to find later.
Frequently Asked Questions (FAQ)
Is Super Teacher Worksheets legit?
Yes. It's legit. Super Teacher Worksheets is a fantastic resource for finding worksheets for a wide range of disciplines such as spelling, reading comprehension, arithmetic, science, social studies, critical thinking, and more! The subscription cost is fair. Being a member saves you so much time since you get access to over 12,000 worksheets and printables in one spot. I really like the variety and high quality of their scientific worksheets, holiday worksheets and exercises, and brain teasers.
Is Super Teacher Worksheets free?
No. You must become a member of Super Teacher Worksheets to have unrestricted access to hundreds of worksheets and printable resources. A year's subscription to an individual membership costs just $24.95. However, they do provide free worksheets on every page of their website. You can try out those printable activities. They also have a monthly competition! To enter the giveaway, just fill out their short form! View prior awards and winners on this page.
Final Thoughts
This is a thorough website and I'm very happy with it.  I do wish there was a quick-pick type menu at the top to navigate to subjects a bit faster.  Maybe a drop-down menu, because right now you have to scroll down, sometimes all the way to the bottom, and then click "more" to see whole subject categories.
There's so much here, that I rarely have to look elsewhere for what I need.  I love that they offer a unique variety of interesting printable material, not just standard fill-in-the-blank worksheets.  They have mini-books, word wheels, games, flashcards, cut-and-paste, puzzles and so much more than I could possibly list.  It's definitely worth the subscription ($24.95/year) considering you get so much offered in one spot.  I love that I don't have to pay for individual items like on some other websites.  They also offer many freebies in different categories, so it's worth checking out their free worksheets to get an idea as to the variety of their offerings.  For more information, find them on social media, and read the other crew reviews!