Make a modern, mid-century minimal, wooden kids' play table (that doubles as a stylish side table) with this step by step tutorial. Read on how to create a pretty cute play and study table that is so easy to replicate, it makes a pretty good gift idea (for your kids or your friend's kids)!
The story starts when I decided our daughter had outgrown her baby play table and we needed to replace it with something sturdy yet pretty and – ideally – made of natural materials. Of course, we turned to DIY and managed to make something practical yet pretty and at a very low cost.
This post contains affiliates links
We had a convertible highchair like this one (that turned into a table and chair set). It was very practical and impressively sturdy but time passes and little babies turn to toddlers, who turn to preschoolers and then they are too big (and too heavy) for their baby high chair (and mommy starts worrying her baby is growing so fast – but I digress). The Cute outgrew her highchair/play table and I wanted to get a new one that would be sturdy and ideally stylish. I mean, we are having all those feasts in our toy kitchen, we have to "eat" in style. Right?
Plus, I wanted her to have her own table with enough room for writing, playing with play doh and all the activities little preschoolers do.
Looking for something made of a more organic and natural material instead of plastic, I searched for a pretty play table set and -oh boy – are there options! Super frugal choices, super pretty choices and sometimes a combination of both. This set of table and four chairs is stunning – don't you think so? And this – far less expensive – set is adorable too (even has a lid and net pocket – darn, had I not already made our table, I'd probably buy that).
Finally, I saw a play table at the Land of Nod and in terms of aesthetic, it was IT. Only, the $198 price (includes the cute chairs) wasn't as "it" as I would like. Don't get me wrong, Land of Nod has beautiful stuff and it does not feel overpriced. I admit though, I recoiled seeing the price and set to DIY that table myself and in typical DIYer fashion, I started thinking of "how can I make something similar and as stylish at the least possible cost?"
The inspiration piece: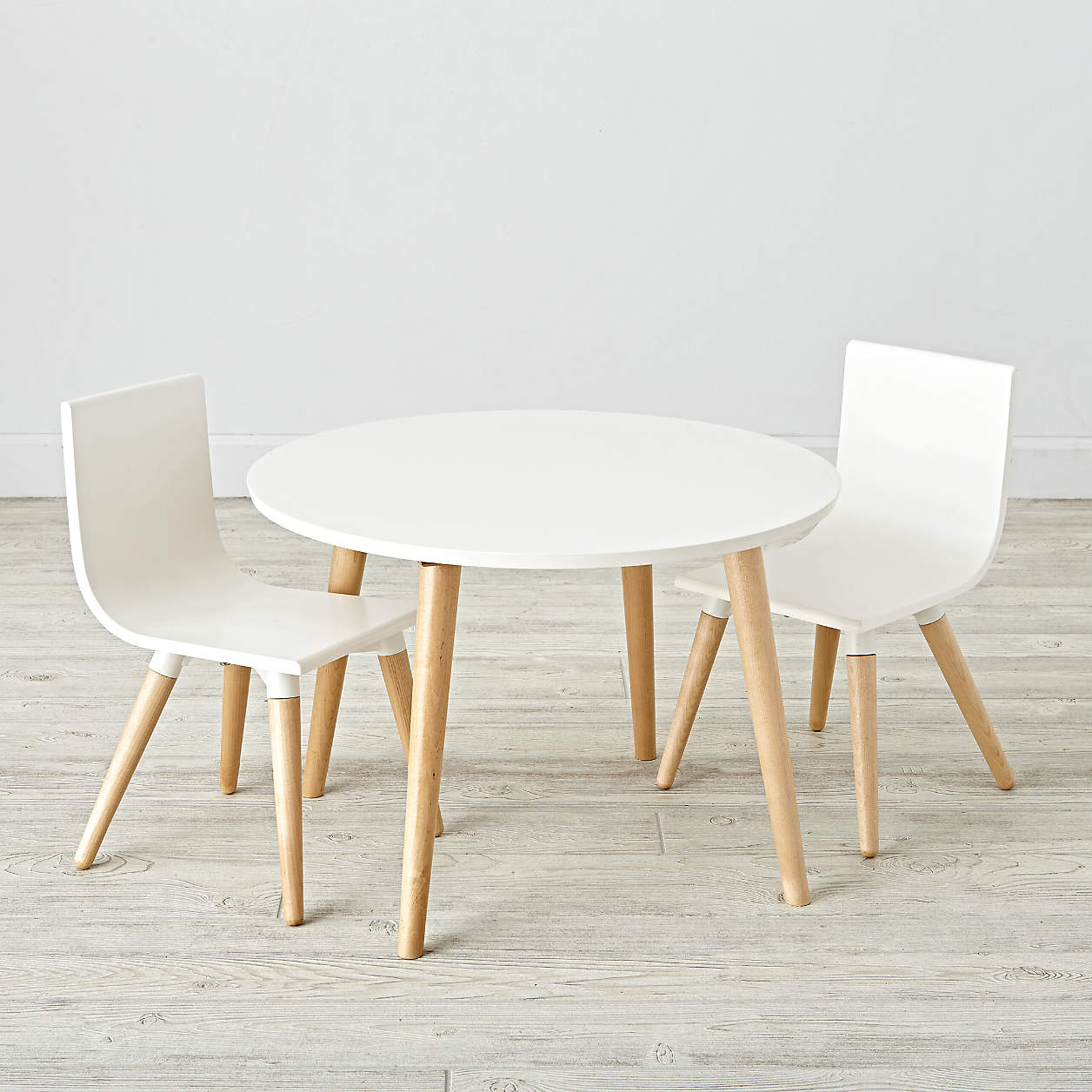 Having a round table made a lot of sense to me because I am a klutz; I am bound to hit my knee right at the corner of a square table (not that I don't with round tables but at least, it doesn't hurt as bad). I'll also kick any protruding legs and that's why I installed the legs of our table to land at the projection of the table top to the floor (if I come to visit you, make sure any china is well anchored or – even better – hidden away). Round tables are so much friendlier to kids too: as they dance, run and…fight, there is less risk they hit any edges and get bruised.
So, I drew a few sketches, I searched online for a few how tos (which naturally resulted in  – hours later – watching videos of cute animals). Eventually, I came up with a super-frugal DIY plan: round top, round legs, a way to angle them, sturdy construction and natural materials. We also had to make our own table legs because I could not find ready round legs at the desired height and look.
In case you find yourself in the same predicament of not finding the "right" legs for a project, I included how we DIY'd the legs too. Overall, I'd say this project is one of the easiest substantial DIYs one can make (honestly, making our wooden DIY crates was more troublesome even though it required less steps).
The very short version of this DIY tutorial for your very own mid century minimal play table, is: buy a round tabletop, screw 4 leg plates under it, cut four legs, insert hanger bolts to said legs, assemble, mildly sand (if you want), paint, seal.
Done!
But as you probably know, I like our tutorials a little extensive in case someone decides to actually make this table. Exhaustive "how to" follows right up!
How to Make a Mid Century Minimal Play Table
Get your Materials
Round, 24″ pine table top from your favorite store. Do shop around for prices, we bought ours for $5 because one of the stores was having a super offer. Pick one that is super flat and with the least knots. Pine scratches easily so try to find a pristine looking top.
Round 1 & 1/2″ wooden dowel or closet rod, or moulding. You need to cut 4 legs out of it so make sure it is straight as possible. We picked a sturdy oak closet rod that gave us 3 legs and I had a leftover piece from when I made the cylinders for our diy wooden toy blocks that provided the 4th leg (in the same link you can get tips for cutting the legs with a miter saw and how to get the least splintering when doing those cuts).
Angle top plates. We bought a set of 4 (which was slightly cheaper than buying the same pieces separately).
Four (4) hanger bolts (screws) to match the hole of the plates (they go in the legs and screw in the plates). We used 2 packs of [5/16-18 x 2in] that matched the holes of our plates precisely.
Get your Tools
Drill – to open holes in the legs
Screwdriver – to screw the plates to the table top
Saw – if you want to cut the bottom of the legs like we did and for cutting the hanger bolts to size
Level – for some reason, nobody appreciates a lopsided table (go figure) so make sure it's level once the feet are on
Optional: Paint (or you can keep it natural)
Sealer of your choice
Get Making
Total height of the stools: 1 foot
Total height of the table: 19″ & 1/4 (anywhere between 18″ and 20″ is ideal for kid play tables)
The legs are sufficiently apart to accommodate room for the stools and the child's legs without distress.

Make the legs:
Cut the wooden dowel/rod to four equal parts. (Just straight cuts for now.) Allow 1-2 inches extra if you plan on cutting angled ends.
Find the center of each leg top and drill as straight and as centered as you can. TIP: using woodworking bits instead of general use ones, makes a world of difference in centering the hole. Use a tape to mark where your drill bit should stop – no need to drill deeper holes than the length of the hanger bolt part that goes in (the pointy side of the hanger bolt should go all the way in). An extra pair of hands or clamps, will help holding the leg in place while you drill.
Screw the hanger bolts in those holes (the pointy side in the legs – the flat side will screw in the plates)
Dry fit the legs in the plates and mark (with tape) the excess of the hanger bolt. Cut that excess with a saw. Yes, manually, you can do it! Even I could:
Attach the plates to the table top:
Pick the side of your table top that looks the most perfect (having the least knots and etc). Safeguard that side! Always use a soft rag, towel or something similar under it, so it doesn't get scratched while you work on it. Being pine, it is so soft, you can scratch it with your nails so don't fret too much. Just avoid deep gashes.
With the "bad" side up, inscribe a square and draw the diagonals. There are a few ways to do that and I will post them in another article but for this table we went too math-sy. Eyeballing and correcting would have worked just fine, too.
Measure along those diagonals – from the edge of the tabletop towards the center – how deep in you want to put the leg plates. Mark all 4 with a pencil and double-check your measurements.
Screw the plates in place. Pine is soft so you can use a plain screwdriver like I did. Going full manual, meant I didn't have to pre-drill the holes (it also made my hand hurt the next day, so pick your battles wisely). TIP: Stabilize the plates using masking or painter's tape to make your drilling life easier.
Install the legs and check if your table is stable and perfectly level/parallel to the floor. (This is the part, where we realized our floors are not as flat as they look – make sure you find a flat surface to check your table.)
In order for the table to be stable and hard to tilt, the more open the radius of the legs is, the better. At minimum, the floor touching ends should be at the projected diameter of the table top (if you are like me and stumble upon…everything) but, it's even better if you make them ending at a wider circle (an inch seems perfect) than the tabletop's projection.
Paint the top:
1. The very first thing you want to do is to seal all knots on the "good" side. Pine knots have oil that sooner or later, will "bleed" through the paint, no matter how many coats of paint you used – you can count on it. Grab some shellac – I used a spray one but, you can use a classic can – and saturate any knots you see – or even the whole surface. Let dry.
2. Prime. Let dry. Sand lightly.
3. Paint at least 2 coats. Let dry between coats.
4. Seal (2-3 coats). This is a play table. It will get hard use and will be painted countless times with markers. You really want to seal it well. I used polycrylic (a little less protective that polyurethane but doesn't yellow and dries super fast).
Finishing the legs:
There are two ways to do this, perhaps more but, these two come in my mind:
1. Sand the ends of the legs in a round shape.
OR
Saw the ends that touch the floor, in angles (like we did). Hubby did that and was so excited about it, he wants to make a post on cutting angled table legs and the jig he made for that.
Stay tuned!
2. Seal the legs. Or, you can paint them too – if you want. But do seal because – take it from me – once your kid gets those markers out, if they get on the pine, they will never come out (the wood will absorb the paint from the markers).
The legs looked a tad too plain with poly and painted the tops (where they meet the table) white. Measured from the top, about 3 in down, wrapped in painter's tape and painted with the same gloss white I painted the top of the table. Adding this last touch, really finished the whole table for me. What do you think?
Like it? PIN IT!
I am very happy with our new play table. It looks good and sleek and modern, holds really well (no wobble whatsoever) and The Cute was thrilled. So thrilled it was hard to paint it; she kept bringing her stool to sit at the – still unfinished – table and play. I am even more excited than I was when I finished the DIY bookcase ledges you see in the background of the photos.
Speaking of how thrilled and happy and sharing all that excitement, over a simple DIY like this, I wonder if one might feel a bit annoyed: "oh come on girl, you just screwed 4 legs, it's not like you performed a – successful – brain surgery!". But, guys, the truth is, when we make something with our own hands and/or in our own vision, there is always this happy satisfaction (even pride) from our own creativity, that often comes with a bit of excess enthusiasm.
And it feels so very good!
And if you like its modern style, I hope this tutorial will help you DIY your own mid century minimal play table and hopefully get as excited over it as I did. 😉
ps. Also…guys? Woolen sweaters and sawdust = nono. I speak from experience, the red sweater I'm wearing in the photos took a DIY of its own to clean. :))